About
A Tribute to Big Dud...
We offer this tribute to our Dad, Dudley R. Bozeman, who died from complications associated with bronchial pneumonia Thursday, May 24, 2007 at the Mississippi Baptist Medical Center.
The 66 year-old cattleman, farmer and landowner had a quiet and understated demeanor, and an aversion towards being away from Flora. But, these traits belied his passion as a benefactor to many organizations and as a champion of many causes.
He was a faithful member of the Flora United Methodist Church and active in many organizations, including serving as president of both the Mississippi Cattleman's Association and the Mississippi State University Bulldog Club. He served as a board member of the Dixie National Sale of Jr. Champions, supported the Fellowship of Christian Athletes and was one of the founders of Tri County Academy. He served on the board of directors for the North American Limousin Foundation.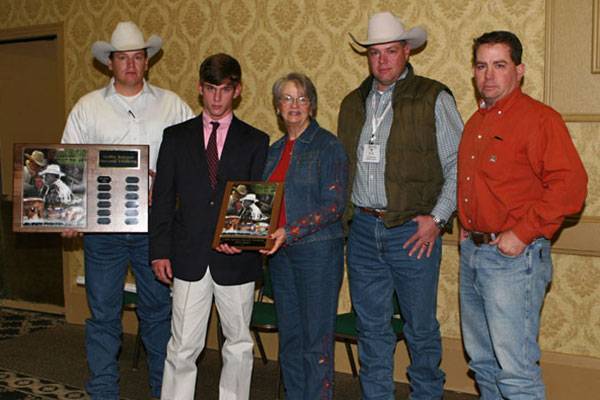 2009 Dudley Bozeman Memorial Scholarship Winner; Zachery Charles Brower, Water Valley
The service for "Big Dud," as his family and many friends knew him, was held at the Flora United Methodist Church on May 26 followed by burial at the Bozeman Family Cemetery at the Bozeman home place on Cox Ferry Road in Flora. Services for Bozeman celebrated a life that was dedicated to family, friends and the Flora community.
Bozeman grew up in Florence, Mississippi. After graduating from high school there in 1959, he moved with his family to Madison. Following attendance and graduation from Mississippi State University, he began farming in Hinds and Madison counties. He made Flora his home in 1965.
Bozeman especially cherished Flora, where he enjoyed hunting and spending time with his grandchildren. It was due, in part, to his practice of sound wildlife management and land conservation that Flora became a destination on the wish list of many hunters and other outdoor enthusiasts.
The board passed two resolutions. The first honored Bozeman for his ability to bring "reason and a cooperative spirit to the deliberations" of some of the many organizations he has been a part of.
It also stated that Bozeman's "nobleness of character, his deep commitment to his family, church and community, and his calm demeanor typify all that is good about Flora and Madison County."
The second resolution honored Bozeman by requesting that the Mississippi Department of Transportation name the proposed new alternate route of State Highway 22 as the Dudley R. Bozeman Memorial Highway.
The resolutions were offered by District 4 Supervisor Karl Banks. Banks says that Bozeman's help in Madison County would be missed.
"Dudley Bozeman was a good contributor to Madison County and District 4," Banks said. "He was always helpful, and had great ideas, including the alternate route of Hwy 22 from Canton to Flora to Edwards. We worked together for many years and just like all of Madison County, I will greatly miss him."
The Madison County Board of Supervisors on June 25 honored the life of longtime Flora resident and property owner Dudley Bozeman for his...
"humble (and) distinguised record of service to his fellow man, (and) leadership."
The resolutions were prepared by Chancery Clerk Arthur Johnston. Johnston said he will miss being able to turn to Bozeman for calm advice during troubling times.
"To me, Dudley Bozeman stood for all the things that make Flora and Madison County special," said Johnston. "On occasions when political winds seemed to blow a little too harshly for my tastes, I'd often turn to him for advice and wisdom on how to proceed. He always had a way of calming things down and helping me see the way to a solution. Beverly and I are honored to have called him a friend, and we will dearly miss him."